A little bug dropped by...
I have been camera-less for the past week and so unable to update all of the goodies coming my way. But finally, here in a group photo, are my latest lovelies from Pamela: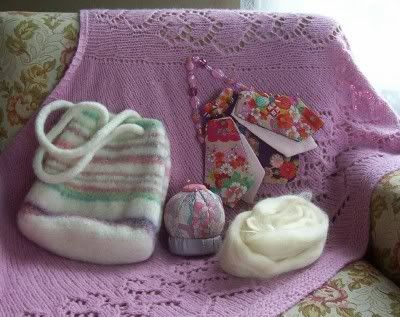 Aren't they amazing???? Fluttering above them all is the little Cicada pouch with its shiny jeweled eyes and beaded handle. I have this cutey sitting next to me at my desk, just because it makes me smile ;)
Then there is my pincushion in the neatest fabric. It looks like a hot air balloon to me Pamela! Or an ice cream cone...I love it! Then TEESWATER fiber to spin!!! And then, the oh-so-pretty felted bag! Guess what??? A sock knitting project fits in there perfectly...is that what you planned Pamela?
You are so very, very dear!!! All of my gifts from Pamela have come one at a time, prolonging the joy of them. To take this photo I placed these things on a shawl that Pamela had asked me about in a previous post. I wanted to fill you in about this shawl. I believe it is Jackie's (Heartstrings) pattern (Hearts something or other...my mind is going blank) It is a Faroese style and it was knit for me by CARISSA!!! I think she said it is Corriedale and angora yarn? You might remember me mentioning that back when Bill went suddenly into the hospital, I came home the second or third day to a package. Inside was this gift, and Carissa said she had just finished it and the Holy Spirit prompted her to send it to me. BEFORE she knew about Bill being in hospital!!! That was in February and you can believe me that this shawl has been my hug many times when I needed it!!! And I think of Carissa and God our loving Father every time it is wrapped around my shoulders.
What a blessing it is to share in the lives of so many wonderful Christian sisters! I never take it for granted, believe me. So rather than a verse with this post, I want to share a little prayer taken from a Childs Book of Prayers. It reminds me of my loving Sisters...you are all an example to me! Here it is:
"Father, we thank Thee for the night
And for the pleasant morning light,
For rest and food and loving care,
And all that makes the world so fair.
Help us to do the things we should
To be to others kind and good,
In all we do, in all we say,
To grow more loving every day"
-AMEN!