Following Through
"Bear ye one another's burdens, and so fulfil the law of Christ" ~ Galatians 6:2
When I read this scripture this morning, I thought of our little group here and how, through prayer, we are helping to bear each others burdens...sharing in the load and helping to carry them to Christ. Lets especially remember to lift one another up this week!
I have a new winner to announce this week...are you ready???? The winner of this weeks prize drawing is ~
PAMELA!!!! (Fitting, since Pamela has posted an update - LOL) Look what will be making its way across the water to Nottinghamshire: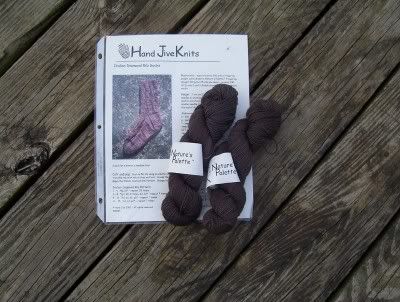 This pattern and yarn were donated by a dear sister who would like to remain anonymous (but God knows who she is, so lets lift her up today as well!). So to date, our winners are Molly, Theresa, Judy, Carissa and now Pamela. If you have not won a prize yet, don't fret - grin - we have MORE to come ;)
I wanted to share an update of my own, and that is a beautiful full color tour booklet of York, England AND the most adorable stitch marker with a little ball of yarn and knitting needles on it - my latest surprise from Pamela. The stitch marker was created by
Heidi Petach Designs
Thank you again, Pamela...you are just to good to me ;) Hmmm, how can I "get back" at you???? I've been thinking.....
My other update is about my own knitting for my Secret Sis, Eve. I am turning the heel as we speak, and liking the looks of things more as I go. Isn't that often the way? When we aren't exactly comfortable with our progress, or the bumps in the road that come our way...wouldn't our Heavenly Father have us to persevere, continue in good faith, following His direction and pressing towards the finish?
My prayer for you today is that you would see His hand in your life today, and that the road ahead would be filled with promise if you will only follow Him!