Crushed Under Our Feet
"The God of peace will soon crush Satan under your feet..." Romans 16:20
Something to look forward to do on days when it feels more like we are the ones being crushed!
We are coming down to our deadline ladies ;) Share with us what's going on...those of you who have received your sock and those who are ready to mail. If you are not going to make the deadline, don't stress...just let your Sister know so she won't feel abandoned ;)
I have heard from Charlotte that she received her prize of yarn and pattern and is very happy about it! She also has her project ready to be on its way!
Since this is our last "official" week, I decided to draw for the rest of the prizes. And the winners are ~
Eve
Kimberly
Cindy
Congratulations ladies ;D (And please correct me if I am wrong you all, but doesn't that give everyone who participated a prize?)
Here is a photo of Kimberly's prize, so generously donated by our Trish from the CA list:
This is actually a kit with several brightly colored yarns and a pattern booklet! I was tempted to keep this one myself! (Just teasing!!!) Kimberly, you will have to let me know for sure where you want this sent, or if you would like me to hold off till you get all moved.
Now I can't show you Eve's prize...it would only look like a priority mail box because....drumroll please....I have it all packaged up along with Eve's sock and goodies, ready to mail! Woo-hoo, by the deadline even! LOL Eve will have to show us a photo when her package arrives.
And Cindy....I will try to post a photo of your prize as soon as Photobucket is cooperating again with the photo loading ;(
Oh, one final picture for today's post and that is my slippers from Pamela! I love, love, LOVE these slippers! What is the yarn Pamela? The pattern is great, and the yarn kind of stretchy. Photo is a bit dark for some reason and don't you love my snazzy pajama pants?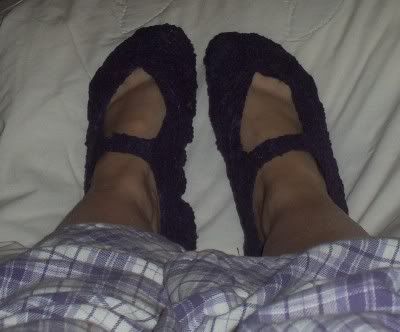 I also received in the mail yesterday a pen and mug pad AND a rubber yellow duckie...is that for all the rain we have been getting Pamela? He might need an umbrella, too....OH, I just thought that I HAVE one of those pretty little paper umbrellas that would be just right for him!
Have a blessed day everyone!