Weekly Update
"And Moses said unto the people, Fear ye not, stand still and see the salvation of the Lord, which He will show to you today; for the Egyptians whom ye have seen to day, ye shall see no more again for ever." Exodus14:13
Good Morning! We have snow in Michigan today!!! Well, we don't have it here personally at Serenity Farms - but just a little north of us they do ;)
How is everyone coming? Are you remembering to pray for your Sister daily? Maybe send her little notes of encouragement? Do you find, like I do, that I am praying and searching the scriptures for your Sock Sis that you are blessed yourself? I know I am, and isn't that just like our God and Savior - that we would be blessed by caring for someone else?
He is a good God!
Here is a picture of some little surprise goodies that my Secret Sis blessed me with: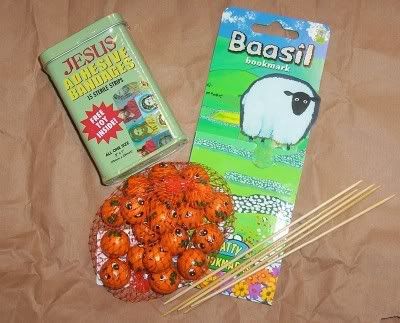 Pamela sent me these fun gifts...to patch me up (band-aids); to sweeten me up (chocolates) and to keep me in line (bookmark) LOL! Thank you Pamela!!! She also has been letting me know that she is praying for me, and just that little note brightens my day.
I wrote about this over at my own blog, but I will mention here the empty needles in the bottom right of the photo above....signifying the lack of progress on Eve's socks. I have started and re-started more than once. I have the perfect thing in mind....now it is just getting what I want on the needles! hehe...but I have been learning as I go. Last night I cast on again, and think I am getting the pattern that I want from the yarn I have chosen.
Lets remember to pray for Kimberly and her family as they travel!
How about your updates? Let us hear! And my prayer for each of you today echoes the scripture above - that you can take a moment to just
STAND
on God's promise to you, that you will feel, hear and see His salvation!
Hugs to all - Cary